4 Reasons Outdoor Storage for RV and Boat Parking is Beneficial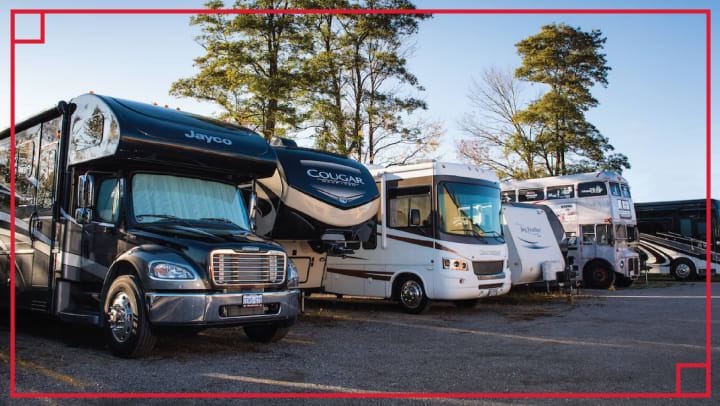 When it comes to storing your valuable recreational vehicles (RVs), boats and personal watercrafts, finding a safe and convenient space is of utmost importance. Apple Self Storage offers a reliable solution with outdoor storage options specifically designed for RVs and boats.
Here's four compelling reasons why choosing outdoor storage at Apple Self Storage is a great choice.
1. Ample Space and Convenience
One of the primary advantages of outdoor storage at Apple Self Storage is the abundant space available for your RV or boat. Outdoor storage lots are designed to accommodate vehicles of various sizes, ensuring there is enough room to maneuver and park your prized possessions without hassle. With easily accessible storage space, you can simply drive in, park, and retrieve your RV or boat whenever needed, making it a convenient choice for frequent use. This is especially helpful if you live in areas with limited parking or by-laws restricting parking, such as Toronto and East York. Facilities, such as our Toronto-Leaside location, offer a solution and are close to major highways so you can get on the move quickly.
2. Cost-Effective Solution
Compared to indoor storage options, outdoor storage provides a cost-effective solution for parking your RV or boat. Indoor storage often comes with higher cost due to additional amenities such as climate control and enhanced security features. By choosing outdoor storage, you can take advantage of competitive pricing while still ensuring the safety and security of your vehicles. This affordability allows you to allocate your funds towards other aspects of your recreational activities.
3. Flexibility and Accessibility
Outdoor storage offers unparalleled flexibility and accessibility. At Apple Self Storage, you have the freedom to access your RV or boat whenever you please. With extended access hours, you can plan your trips without worrying about restricted availability. Whether you decide to embark on a spontaneous weekend getaway or need to prepare your boat for a day out on the water, outdoor storage provides the flexibility you need to accommodate your schedule.
4. Enhanced Security Measures
While outdoor storage may seem less secure than indoor options, Apple Self Storage goes above and beyond to ensure the safety and protection of your RV, boat or vehicle. Our facilities are equipped with advanced security measures, including surveillance cameras, secure gating systems, extensive lighting, and on-site staff 6 days a week. Thorough monitoring further reinforces the safety of your stored vehicles. With these comprehensive security features in place, you can have peace of mind knowing your valuable assets are well-protected.
Choosing outdoor storage at Apple Self Storage to store your RV or boat offers several benefits that make it an excellent option. The ample space, cost-effectiveness, flexibility, and enhanced security measures provided by Apple Self Storage allow you to confidently store your recreational vehicles, boats and personal watercrafts, knowing they are well taken care of. By opting for outdoor storage, you can enjoy the convenience, accessibility, and peace of mind you deserve while pursuing your outdoor adventures.
Find a location near you today at applestorage.com
More From Apple Self Storage