You're Invited! Apple Self Storage Toronto-Leaside Official Grand Opening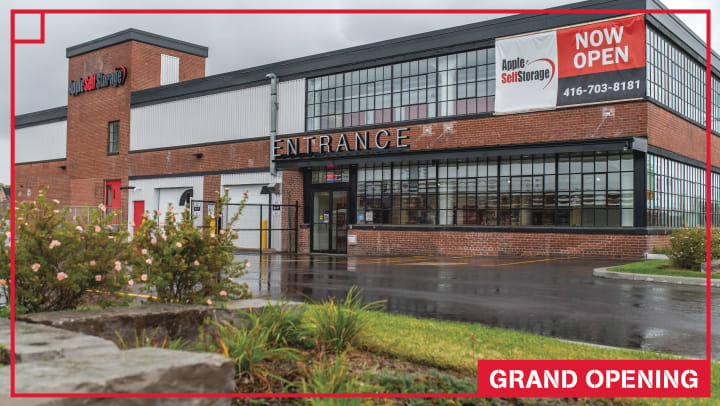 Apple Self Storage Toronto-Leaside will be holding its official grand opening on Friday, March 10th from 12pm – 3pm. The converted facility located at 20 Research Road in East York, Toronto, ON has been welcoming residents through its doors since its completion mid-2022 but we are beyond excited to be able to invite everyone to join us for a few hours of networking, food and beverages.
The grand opening is the perfect opportunity for residents, small businesses and entrepreneurs to explore the facility to see the services that could benefit their storage needs and beyond, as well as explore the unique features of this historical building that were kept in place as part of Apple Self Storage's adaptive reuse initiative. Plus residents can meet the staff at the location, who are well-educated to help find a tailored self storage solution unique to each person as we understand that there are many reasons, both personal and business-related, that bring them to us.
Apple Self Storage aims to give back to the communities it is involved in whenever possible and as part of this the Toronto-Leaside location will be running a food drive the day of the grand opening to support local food banks. Any attendee that brings an item for the food drive, will be entered into a draw for free storage at the Toronto-Leaside facility. Apple Self Storage's way of saying thanking you for helping support the community.
Apple Self Storage Toronto-Leaside has been featured in multiple articles due to its historical relevance and involvement in adaptive reuse. Customers that use the facility can enjoy these architectural features in addition to services offered.
Food and beverages will be served throughout the event, and anyone in attendance can enter the raffle to win the door prizes available. Please RSVP to the event by emailing aweston@applestorage.com.
We are excited to be able to run a food drive to support local food banks during this event. Below is a list of needed items that would go a long way for those who use the food banks:
Priority Food Items
Canned Fish (Tuna, Salmon, Sardines)
Canned/Dried Beans & Lentils (Chickpeas, Kidney Beans, Black Beans, Lentils)
Canned Tomatoes & Pasta Sauce
Peanut Butter & Almond Butter
Brown Rice, White Rice & Basmati Rice
Healthy Cereal (Oatmeal, Bran, Shredded Wheat, Cheerios)
Whole Grain Crackers
Oatmeal, Flour, Quinoa
Almond Milk (shelf stable)
Oil
Other appreciated donations include:
Nuts
Dried Fruit
Applesauce
Coffee/Tea
Canned Fruits & Vegetables
Pasta
Sugar
Condiments
Personal Hygiene Products (Tooth Paste, Tooth Brushes, Soap and Shampoo)
Feminine Hygiene Products (maxi pads)
Grand Opening Event Details
Location: 20 Research Rd. East York, Toronto, ON
Time: 12pm – 3pm
RSVP: aweston@applestorage.com
More From Apple Self Storage