How to Declutter Your Office: 6 Easy Steps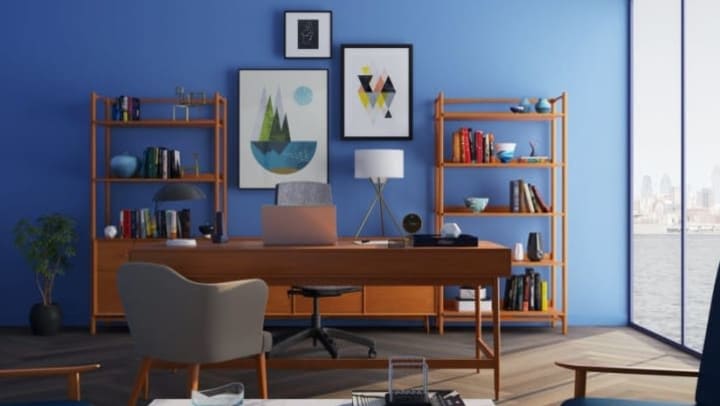 Whether it's your office at work or a home office, it's easy to quickly go from clean to cluttered if you don't stay on top of it. Carla Younger, Site Manager at National Self Storage in Kitchener, agrees.
"We make a point of keeping our storage offices always looking neat and organized," said Carla. "Here are the six steps we use."
1. Everything needs a "home"
There's a designated spot for everything in our office, whether it's a file folder or a physical item like a tape dispenser. At the end of the day, we make sure that everything is put back where it belongs. Finding a logical home for things is also a great way to decide what you need to keep, and what can be donated or discarded.
2. Invest in storage organizers
Stackable storage and compartment organizers come in all different shapes and sizes, and are perfect for keeping desktops and drawers tidy. All the supplies you need are easy to access without taking up a lot of space.
3. Get multi-functional furniture
If you're tight on space in your office, look for multi-purpose office items. For example, you can get a desk and filing cabinet combination all-in-one.
4. Don't let paperwork pile up
Create a system to handle all the paperwork in your office. Make sure it's regularly filed and organized. When the file folders get full, we remove the papers and place them in large, clearly marked envelopes or boxes. For example, 'Invoices sent January – April 2019'.
5. Don't let wires run wild
A tangle of wires and cables under a desk looks messy. We keep all the different cords and wires organized by taping them together with colored electrical tape, Velcro ties or cable clips. Or you can feed your cables through tubes, cord covers or cable boxes to keep them neatly out of sight.
6. Put stuff in storage
If you have a lot of files or inventory items that you have to hold onto, renting a self-storage unit is a convenient and cost-effective option. There are multiple sizes of storage units to choose from, and many storage facilities offer 24-hour access, 7 days a week.
---
Please visit our Storage FAQ page for more information about Storage Units. Storage Units in Toronto, Halifax, and Over 30 Other Locations Across Canada.
Apple Self Storage has 33 storage unit facilities across Ontario and Atlantic Canada. Our facility managers provide friendly, personalized advice to help you pick the right self storage solution. Our flexible plans offer the perfect solution for personal, student and business needs. At Apple Self Storage you can be sure satisfaction is always 100% guaranteed. For more information click here to contact us or call 1-866-880-6698 to find your storage solution today.
More From Apple Self Storage