Hiding Christmas Presents? We Know The BEST Secret Hiding Places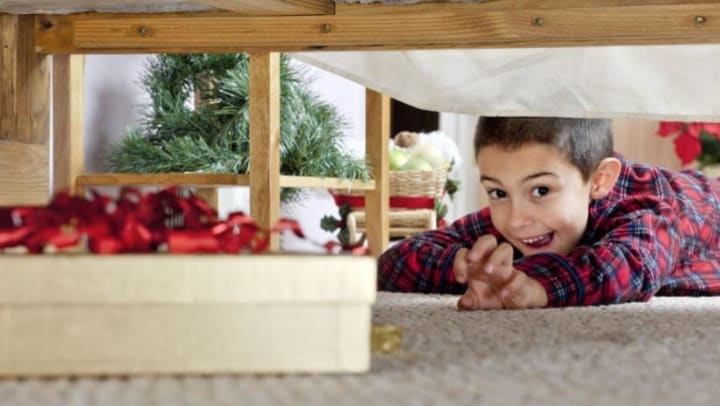 Kids are curious, and when it comes to Christmas presents, they can be downright obsessed. And it's not just kids. There are some grown-ups that just can't wait until December 25th to find out what Santa has brought them.
If you're running out of hiding places, we've got a few ideas for you … along with a secret hiding place you may not know about.
1. Hide Christmas presents indoors
Hiding smaller Christmas presents is pretty easy, of course. Tuck them inside something larger so they get 'lost' when curious eyes come looking. Small things fit nicely inside a pocket of a suitcase or between a stack of towels and bedsheets.
Every room has hidden holes to stash your Christmas surprises. You can tape things to a wall inside the closet, under a shelf or a drawer. Hide them in your socks or underwear drawer. If your basement or attic is unfinished, there are probably lots of secret spots between the rafters.
Sometimes the most obvious places are the best. Who would think of looking for their Christmas gift in their OWN room? Get creative! There are tons of secret hiding places around your home.
2. Hide Christmas presents outside
Larger gifts can present more of a challenge inside your house. So take them outside. Plus, it's less likely that younger children will hunt for presents outdoors in the cold weather. Tuck them away in the trunk of your car or hide them amongst your summer patio furniture.
If you have storage bins in the garage or garden shed, switch things up inside them. Stash your presents in the bins and restack them so the gift bins are at the bottom. Write misleading labels on the bins, like 'Grandma's china' or 'Dad's hockey gear'.
3. Hide Christmas presents in Santa's Secret Storage
If your family has scoped out all your secret hiding spots, then consider taking your gift sack to Santa's Secret Storage locker. That's right … it's a real thing!
If you're looking for short-term Christmas storage space, check out Santa's Secret Storage at Apple Self-Storage. It's convenient, easy to use and FREE! Just get your packages delivered directly to one of our 33 locations and we'll hide them for you until December 24th. When it comes time to pick up your gifts, just drop by your Apple Storage location from Monday to Saturday during regular business hours.
---
Please visit our Storage FAQ page for more information about Storage Units. Storage Units in Toronto, Halifax, and Over 30 Other Locations Across Canada.
Apple Self Storage has 33 storage unit facilities across Ontario and Atlantic Canada. Our facility managers provide friendly, personalized advice to help you pick the right self storage solution. Our flexible plans offer the perfect solution for personal, student and business needs. At Apple Self Storage you can be sure satisfaction is always 100% guaranteed. For more information click here to contact us or call 1-866-880-6698 to find your storage solution today.
More From Apple Self Storage