Apple Self Storage & Suites Recognized for Community Leadership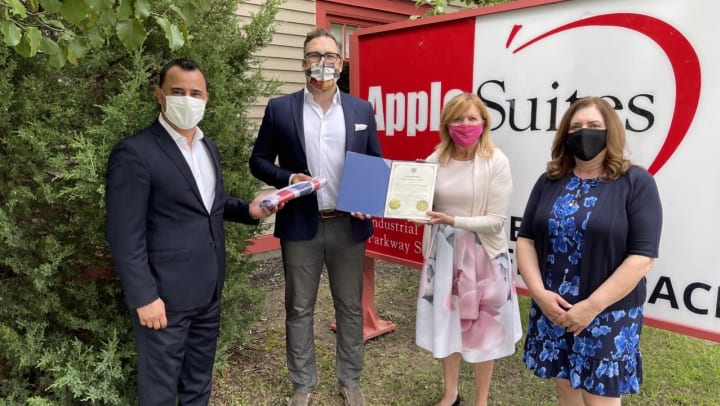 Michael Parsa, MPP for Aurora-Oak Ridges-Richmond Hill, and Christine Elliott, MPP for Newmarket-Aurora and Deputy Premier of Ontario, extend their congratulations to Apple Self Storage and Suites on receiving the Aurora Chamber of Commerce 2021 Community Leadership Award, and commend them on their supportive role in the community.
From the very beginning the owners of Apple Self Storage and Suites made a commitment to be an active member of each community they operate in, encouraging employees to also be engaged and open to opportunities to support other organizations. Apple Self Storage and Suites is honoured to receive such recognition, and it means so much that they can continue to support local causes that benefit the lives and support the needs of residents.
"All of us here at Apple Self Storage and Apple Suites are thrilled and flattered to be recognized with this congratulatory scroll from MPP Elliott and MPP Parsa. We appreciate their recognition of all the hard work our team members have put in to get engaged with the communities we work in. We're so lucky to have such an amazing group of people working with us, who do so much good every day."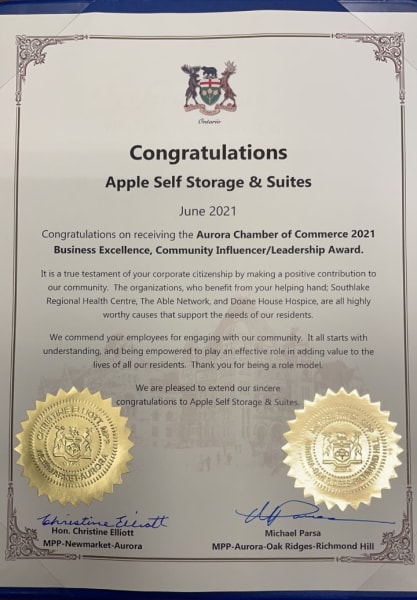 ---
MORE ABOUT APPLE SELF STORAGE
Known for having the best managed self storage facilities in Canada, Apple Self Storage strives to deliver a genuine and authentically great experience across every one of its facilities. The family-owned company has established close bonds with the communities in which it operates through regular pursuit of opportunities to assist organizations that enrich them. It has done so since their very first facility opened in 1975. Apple Self Storage is actively looking to expand their third party management platform as well as expanding through acquisitions and new developments.
For more information about Storage Units, please visit http://www.applestorage.com
MORE ABOUT APPLE SUITES
Since opening in 2010, Apple Suites has been providing the finest in rented office space with the ability to meet the demands of a broad range of business clients. Across all locations, their goal is to combine comfort and convenience to create an environment where businesses can truly thrive. For more information about Office Rentals, please visit http://www.applesuites.ca
More From Apple Self Storage