Apple Self Storage Donates $19,038 To The ABLE Network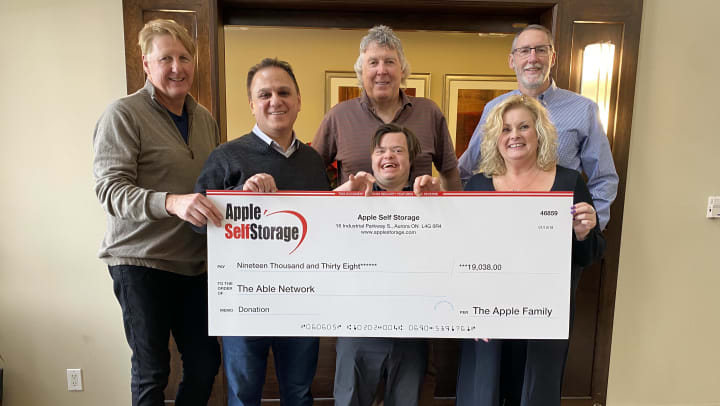 It's been an absolute pleasure to continue our work with The ABLE Network. In 2018, we were delighted to donate $18, 460 to support their ongoing initiatives and last year we were able to exceed the previous contribution. Last month, we were proud to present a big cheque totalling $19, 038 to Doug Sooley. Doug has been a valued member of our administration team since 2011, and brings a wonderful smile to the office whenever he comes in.
Barb Allan, Founder and Executive Director of the Able Network, had some incredibly kind words to share: "The generous donation that The ABLE Network received from Apple Self Storage makes a HUGE difference to our program. With your support, we  can continue to provide a quality program that is affordable to  individuals and their  families. Apple's continued support of ABLE  over the years has allowed us to expand to three communities so that we can provide support to more adults with intellectual disabilities. Thanks to everyone at Apple. 'We are ABLE' because of wonderful people like you!"
More About The ABLE Network:
The ABLE Network is a fee for service, registered charity located in Aurora, Ontario. Their participants are supported in 5 core programs of work experience, transit training, recreation, literacy and volunteer activities. The ABLE Network is based on strong principles and research that states that inclusion of persons with an ID in natural settings provides them with an equal opportunity to make a contribution to the health and well-being of their community.
For more information about The Able Network, please visit www.theablenetwork.ca
---
Please visit our Storage FAQ page for more information about Storage Units. Storage Units in Toronto, Halifax, and Over 30 Other Locations Across Canada.
Apple Self Storage has 33 storage unit facilities across Ontario and Atlantic Canada. Our facility managers provide friendly, personalized advice to help you pick the right self storage solution. Our flexible plans offer the perfect solution for personal, student and business needs. At Apple Self Storage you can be sure satisfaction is always 100% guaranteed. For more information click here to contact us or call 1-866-880-6698 to find your storage solution today.
More From Apple Self Storage