8 Surprisingly Simple Ways To Organize Your Storage Unit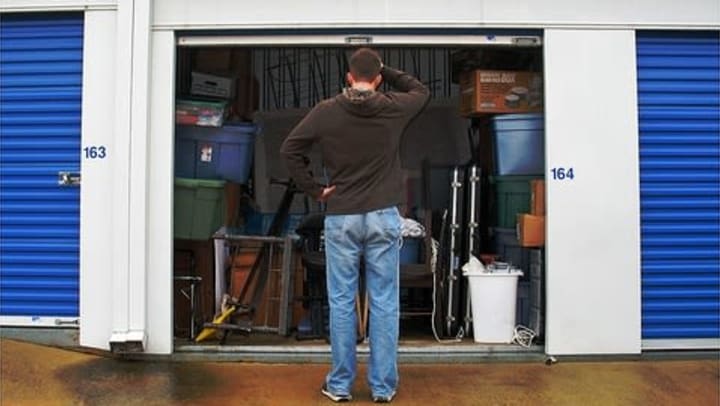 Just because your self-storage unit is out of sight, it doesn't mean it has to be out of control. Think of your self-storage unit as a giant closet or like an addition to your home. With some advanced planning and the right packing materials, your unit can be well-organized and functional while protecting your important belongings. If your unit isn't a jumbled mess of unmarked boxes and bags, it should be easy to walk in and find the items you want, when you want them. Try these eight tips to pack it in properly and get the most out of your storage unit.
1. It's In The Bag … NOT!
Instead of garbage bags, use durable cardboard boxes and plastic bins. Bags tear easily, look messy, and make it hard to find things. Plus, they can trap moisture and grow mildew. Use uniform-sized bins and boxes that can easily be labeled and stacked.
2. Hang Around
Storing seasonal clothes that you'll want to use? Keep them ready to wear by hanging them up with Wardrobe Boxes or rolling clothing racks. Our Apple Wardrobe Boxes measure 24" x 29.5" x 45" and are equipped with a bar for hanging clothing. If you use rolling clothing racks, cover the clothes with dust covers or breathable fabrics so they don't get dusty.
3. Read The Label
Label all of your boxes clearly on all sides. Instead of writing all the contents of each box on its label, create a separate list instead. Keep the list with you and use it for easy reference when you want to grab something out of a specific box. Mark boxes packed with breakables as "Fragile" or "This side up".
4. Small, Medium, Large … Or Just Right
Purchase good quality boxes that fit the items you're packing. Use small boxes (1.5 cu. ft.) for breakable items or things like books and magazines that can be heavy. Medium-sized boxes (2 cu. ft.) are good for everyday items like dishes, kitchenware and clothing. Larger boxes (4 cu. ft.) work well for lighter items such as bedding and towels. Protect fragile items and fill empty box space with proper packing materials like bubble wrap, newsprint or padding.
5. Bin there … Done That
Have items you need to access regularly? Put them in clear plastic bins. Available in a variety of sizes, plastic bins let you see what you're searching for in a flash. Group similar items together at the front of your unit that you may need and leave an aisle to walk in and out with ease.
6. Heavy Stuff On The Bottom
This may seem obvious to avoid crushing lighter boxes, but it's important to keep in mind when packing and stacking. Don't overstuff any box so it's heavier than you can comfortably lift. Put heavy items in smaller boxes and mark them as heavy.
7. Shelves on Shelves
A simple way to make your storage unit look and feel organized is to put up some shelves to store your bins or boxes. Using shelves instead of stacking boxes prevents boxes from crushing each other, and makes it easier for you to get into all boxes if you need to. If you're feeling handy you can make the shelving units yourself with plywood and 2×4's. Click here to learn how. Or you can buy the shelving units at a hardware store and install them in your own storage unit.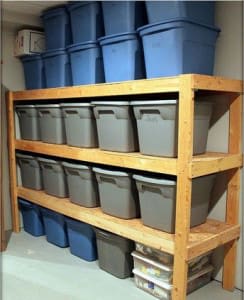 8. Clean Up On Aisle 2!
Creating an aisle in your unit makes it easier to get into all boxes. Instead of just packing everything from corner to corner of your unit, you may want to consider creating an aisle so you can access all boxes.
You can purchase all of your packing supplies at Apple Self Storage. We carry a variety of quality boxes, packing materials, mirror/picture kits, guard kits, and durable covers ideal for long-term storage. Visit our website for more information on what we carry and our Storage Units: www.applestorage.com/
Learn about 12 Surprising Ways Our Storage Units Have Been Used and click here for 10 hacks for maximizing space in your storage unit.
---
Apple Self Storage  has 25 storage facilities across Ontario and Atlantic Canada. Our facility managers provide friendly, personalized advice to help you pick the right storage solution. Our flexible plans offer the perfect solution for personal, student and business needs. At Apple Self Storage you can be sure satisfaction is always 100% guaranteed. For more information click here to contact us or call 1-866-417-1005 to find your storage solution today.
More From Apple Self Storage