5 Easy Steps To Determine What Size Storage Unit You Need
You know that you need a self-storage unit. Now you just have to figure out what storage unit size you need to store all your stuff. You don't want something too big; you also don't want a unit that's too small. So we asked Jennifer Puddester, Site Manager at our Apple Self Storage location in Halifax, for some guidelines on how to select the best storage unit for your needs.
1. Decide How Many Items You Need to Store
Jennifer recommends that you answer some basic questions to start:
Are you moving and need to store everything?
Do you have a storage room or garage with items that also needs to go into storage?
Is everything going into the space?
2. Make a List of all Your Storage Items
Walk around each room and write down any of the furniture you see.
Calculate 10-20 boxes per room (more for kitchen or books).
Think about the specifics – can you stand your sofa on end? Can you remove the legs off your dining table? Stack your chairs?
List any storage room or garage items that will go into the unit.
Be sure to include outdoor furniture, BBQ, and large items like lawn mowers and snow blowers.
3. Determine the Size of Your Items
When it comes to storing large items like couches and fridges, size does matter. Large items will require a larger space.
If you can stand your sofa up on end then you'll use less floor space, but you'll need a unit that's tall enough to have it standing.
If you can't stand it up, you'll need a space with the length and width to fit the sofa. But you can stack items on top of it. (Don't overload it so you don't damage anything.)
Appliances take up a lot of space but will fit into medium to large units. With them, the unit door can be an issue. You'll need to figure out if the appliance will fit through the door, if it can be tipped, if it's too tall, and if the hallway is big enough to manoeuvre in.
4. Decide How You Want to Pack Your Unit
If you're not planning to access any of your stuff for a while, you can choose to pack your unit tightly.
Packing the unit tightly is great for saving money when it comes to longer term storage (or even the first month, if doing it yourself).
When hiring movers it may take them longer to pack the unit tightly which increases their fees, but it means a smaller space and lower storage fee.
If you're going to want to access your belongings on a regular basis, it's best to select a storage unit size that's large enough to leave an aisle down the middle.
Use free-standing shelves to stack up your stuff and you'll be able to walk in and find what you need – even if it's at the back of the unit.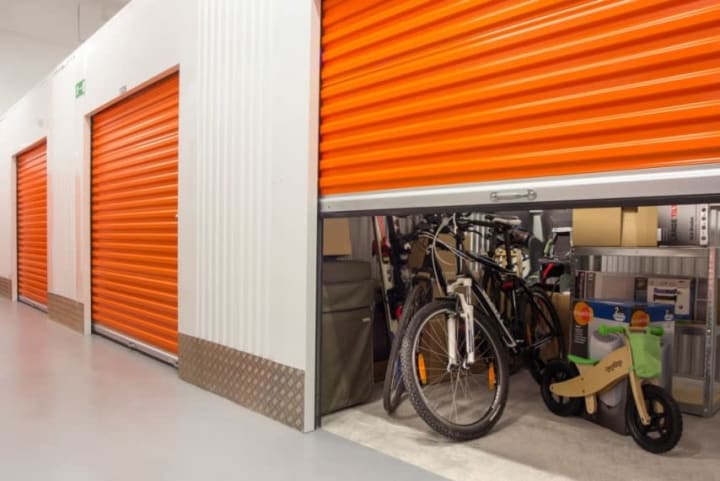 5. Go look at Units to See How Much Space You Need
It's often surprising just how much a unit can actually hold.
Here in Halifax, we have numerous sizes available, and every Apple Storage site is different.
Our tiny/small size is a 4×5 which is 20 square feet. This unit is perfect for boxes as it's 8 feet tall. You can also place smaller items in it, like a twin bed, a dresser, some boxes and a mini fridge (perfect for students going home for the summer).
A room full of furniture may only require a small space, 5×10, if it's a bedroom. A living room may require a larger unit.
Medium units are 8×10 to 10×10-80. These spaces are great for a small or medium-sized apartment or a small house. They would fit your living room and bedroom furniture but would be tight if you add appliances with it or a garage.
A house full of items will also depend on the rooms. A 2-bedroom house may need a 10×12 or 10×15, whereas a 4-bedroom house would be a 10×20 to 10×30.
Extra large units are 10×25 and up. This size is great for a large 4+ bedroom house with garage, or commercial tenants that may receive deliveries to their units.
Check out this quick reference chart of unit sizes: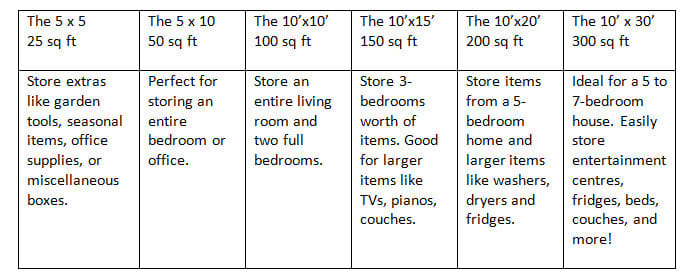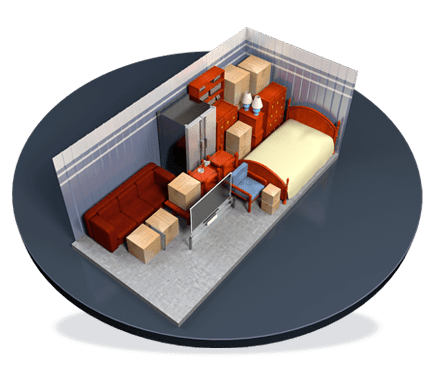 More From Apple Self Storage