4 Tips You Need To Know Before Storing Your Bike For The Winter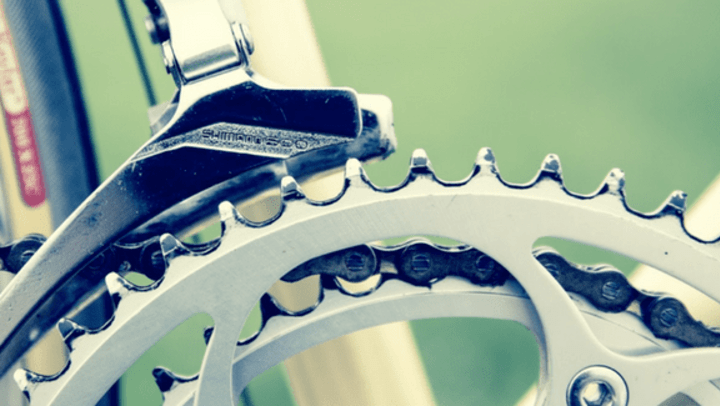 Bikes are pretty low maintenance when it comes to winter storage. However, there are a several simple things you can do to protect it from damage and ensure it'll be in great shape for your next season of riding. The most important thing is definitely don't let it sit outside.
Apple Self-Storage Site Manager Crystal Morrison and bike expert Kevin Wallace from Gears Bike Shop shared their top bicycle storage suggestions with us. Here are 4 tips you need to know before storing your bike for the winter.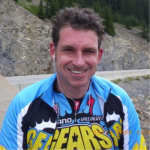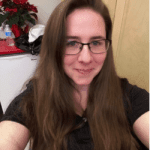 Kevin Wallace and Crystal Morrison
Question 1: Where's The Best Place To Store My Bike?
Answer: A low humidity environment
Kevin: Bikes are vulnerable to direct moisture and humidity so it's important they're stored in a low humidity environment. If they're stored in outdoor sheds or on balconies, the moving parts will rust and the rubber will deteriorate quicker.
Crystal: A self-storage unit is a popular choice for bike storage, especially if you don't have a dry, protected storage space where you live. Our 5×10 unit is the smallest storage unit I would recommend for bicycles. If you go smaller (5×5), your bike would have to be stored on an angle with all the weight on one wheel. If you're storing two or three bikes, the 5×10 would still work well.
Question 2: Should I Hang My Bike Up To Store It?
Answer: You can, but it's not necessary.
Kevin: You can buy bicycle hooks at a hardware store and store your bike elevated by the frame or by the hooks. It can also safely be stored by resting on the ground. If the floors are concrete, you can put rugs or rubber mats under the wheels.
Crystal: If you're hanging a bike at home, be sure to buy the correct hooks for the weight of the bike. Also make sure the hooks are coated in rubber so you don't scratch your bike. Bikes can't be hung from the ceiling in storage units, but it's fine to have your bike sit on its tires while in storage. As long as the tires are inflated you should have no problem.
Kevin: Yes, the tires should be inflated as they may lose pressure over the winter months. Inflate your tires to the recommended pressure on the sidewall of the tire.
Question 3: How Do I Prevent Damage To My Bike In Storage?
Answer: Thoroughly clean your bike, lubricate the chain, cover it, and tune it up before storage.
Crystal: It's a good idea to clean your bike before putting it into storage. A good quality dish soap will do the trick. Knock away any chunks of mud, dirt and grime, especially in the drive train. Clean your chain and lubricate it to prevent rust.
Kevin: Yes, you'll want to clean your bike for sure, but your brakes and cables don't need any special attention if they're put away in the fall time completely dry. Other than lubricating the chain, there's no real benefit to oiling or greasing any parts in preparation for winter storage.
Kevin: It's beneficial to cover the bike if stored in a concrete area to avoid small particles of cement dust that may compromise any moving parts.
Crystal: It's also a good idea to tune-up your bike now so you don't have to worry about it next year.
Kevin: Yes, doing a tune-up now will help you avoid the spring rush for tune-ups, and the bike will be ready to ride as soon as you are.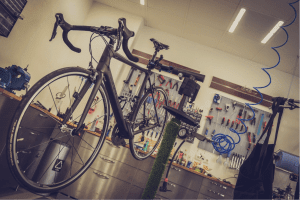 Question 4: Do Different Types Of Bike Frames Need Different Winterizing Processes?
Answer: There is no key difference; they can be prepared for storage the same way.
Kevin: As long as bikes are kept dry they will be fine. There aren't really any special considerations for the varying frame materials or construction.
Crystal: Agreed. The difference between bike frames is minimal when it comes to cleaning and winterizing. Aluminum bike frames for example are able to resist all sorts of corrosion. Steel bike frames are stronger and can probably take more of a beating, but in terms of winterizing and storing there is not much difference.
---
Please visit our Storage FAQ page for more information about Storage Units. Storage Units in Toronto, Halifax, and Over 20 Other Locations Across Canada.
Apple Self Storage has 28 storage facilities across Ontario and Atlantic Canada. Our facility managers provide friendly, personalized advice to help you pick the right storage solution. Our flexible plans offer the perfect solution for personal, student and business needs. At Apple Self Storage you can be sure satisfaction is always 100% guaranteed. For more information click here to contact us or call 1-866-880-6698 to find your storage solution today.
More From Apple Self Storage